Not just as a handcarchief but a multi-functional cloth. Tenugui is deeply connected with our Japanese lifestyle and we use it traditionally in various purposes.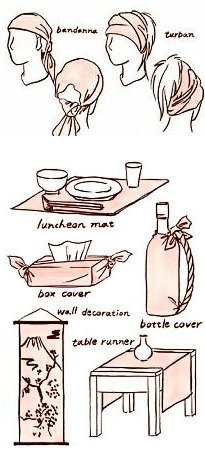 A tool of advertisement and self-appeal among performers and merchants instead of name card (They print their family emblem or trade names of company)
Headgear to shield against perspiration and sunshine
Kitchen cloth
In play scenes of kids (blindfold etc.)
Bandage for the first aid (it can easily be torn up, because it is seamless and the edge is not backstitched)
Wrapping
Room decoration (lunch mat, tablecloth, in frame etc.)
Fabrics for summer outfits (for baby, robe)

Handle with care
However, please be aware of the following matters to prevent any troubles:
Because of hand dyeing, discoloration can occur at the beginning of use.
Please wash separately by hand in plenty of cold water to avoid discoloring.
Do not soak in the water.